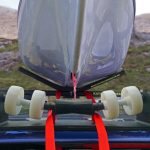 KY – ROL roof roller loading system
£85.00
Our KY ROL Roof Loading Systems makes like easy when paddling on your own.
Easy to fit and remove in seconds.     Cannot mark your Kayak or vehicle.
Totally rot proof.
Description
Manufactured by us at KCS we designed this product to assist loading your kayak onto the roof bars
when paddling on your own.
Made with a centre rubber roller and large plastic wheels in a V so that your Kayak will load up straight
onto your roof Bars.     These rollers will not mark your kayaks hull and the base of the frame has thick
foam to protect your vehicle.
Can be used on all Estates, SUV's and Hatchbacks.
Comes complete with KY- ROL Roof Loading Systems which includes two hooks for the roof bar and
for the bumper, two straps.
FREE UK MAINLAND AND ISLAND DELIVERY.