SOUTHERN SEA KAYAKS run by Steve Jones selling a large selection of sea kayaking equipment and a main dealer from NDK kayaks and our products.
Steve is also a top level Sea Kayaking Coach and is well placed to give advice on all kinds of gear, especially Sea kayaks with demo boats available.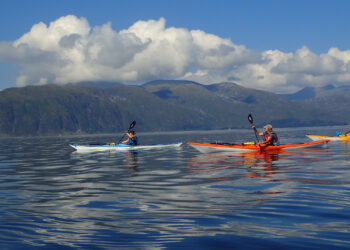 Contact Sam Weir for some of the most extensive guided tours and
wild camping Sea Kayaking trips  in Scotland's wild and remote
places.    Please check out his website for more information.
We strongly believe that all Sea Kayakers should be members of the RNLI saving lives at sea.
Over this last year we have been helping to promote this essential Life Saving Charity with orders being sent out with Membership Forms and Sea Kayaking Saftey Packs which the RNLI kindly donated to us.
Sea kayak Oban. Excellent stockist of all Sea kayaking Equipment. Mark and Laura offer a knowledgable and friendly service including Demo kayaks from several manufactures along with everything required to get you on the water. They are both qualified coaches and offer trips and coaching in the wonderful setting around Oban.
Calmac, The Islands ferry operator from several west coast towns offering passenger and car service to the islands ( image Calmac ferry for Isle of Mull ) Kayaks are transported for free ( at present )