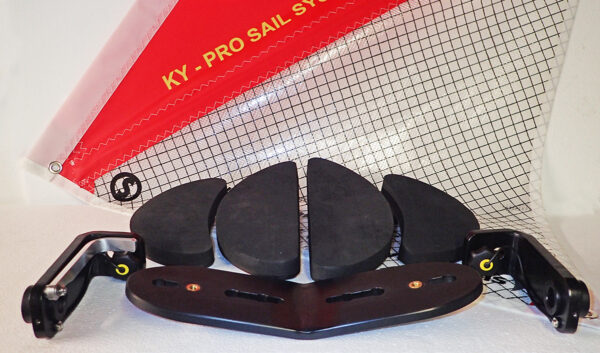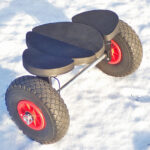 KCS – PRO EXPLORE Trolley
£149.00
KCS are proud to launch an All New KCS – EXPLORE TROLLEY a true Expedition Sea Kayak Trolley.    My son went home from our work one night and decided to design a new trolley.      His thoughts are based on ' What is the last item to load into your Kayak and the first item required when you get to your destination?
Answer … your Trolley and here is the first FLAT PACK EXPEDITION TROLLEY ever designed !  Takes the weight of a fully loaded Kayak without a problem even on and off ferry ramps and rough and severe portages!     
Please tell us which wheels you would prefer.   10″ foam filled no problems with salt and sand causing punctures.   10″ Pneumatic tyres fit just through the NDK 10″ hatches.     8″ pneumatic wheels fit the Rockpool Kayaks with the smaller hatches.
Covered with our unique 10 year warranty on frame, pads except by heat, loss and removal of bonded studs and inserts.    Foam, Axles and wheels are not covered by wear and tear. 
This is an ultra modern practically designed Trolley that will survive lots of robust use.
Going on a Sea Kayak camping trip and always short of space in the hatches to fit in your trolley, well this is the ideal Trolley.
See more below for full details.
Description
The images show that the Trolley and pads are designed round the oval and round hatches, to sit on top of your gear, stow the axle the main frame and the two legs in, the whole complete unit couldn't take up less space a true Flat Pack Expedition Trolley.
No tools required comes apart and assembled easily without any fuss.   Image of fully laden hatch shows how flat the disassembled fits on top of all the gear when dismantled.
The Trolley is the first ever designed to take up as little space as possible and still be very strong to take the weight of fully laden expedition kayaks on and off Ferry ramps on long and rough terrain portages.     Made from the same materials as our renowned EXPEDITION MARK 6 TROLLEY, which are built to last and have stood the test of time for more than 25 years.
The wheels are the only large item and they can be stowed either on the rear deck or in the cockpit as some have space beyond the foot pegs.
WHEELS:   We can supply either 10″ pneumatic tyres or 10″ foam filled tyres.   Please tell us which tyres you would prefer when ordering.
For NDK Kayaks the 10″ pneumatics just fit into the 10″ round hatches.