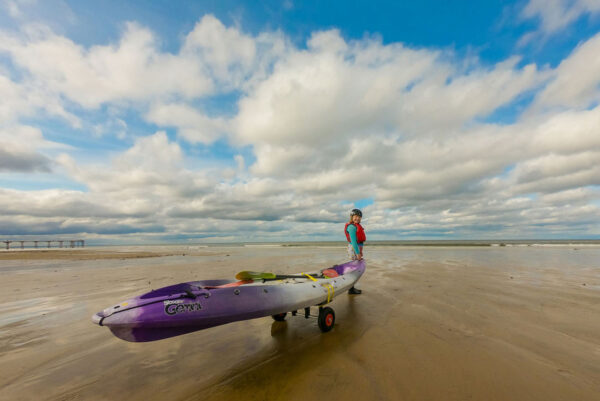 KCS-EX PLUS MARK 6 EXPEDITION 2 X TROLLEYS in ONE
£160.00
Adapts from a Sea Kayak Trolley to a wide Trolley to take your Canadian Canoe or Sit on Top if you have a range of boats.
Our KY-EX PLUS TROLLEY is the Mark 6 EXPEDITION with a centre extension piece and an extra longer axle to allow it adapt from a Sea Kayak Trolley to a wider Trolley  to take the wider hulls of a Canadian Canoe and a Sit on Top Kayak.
The Trolley has just been upgraded to make it even better, less parts and even easier to assemble.
All our Trolleys are manufactured using the same strong yet light weight materials.     They will take all kinds of abuse on long rough portages, sand and ferry ramps with fully laden kayaks without any problems.
NEW thicker foam on the pads to protect your Kayaks and Canoe hull.
2 X Trolleys in one for the paddler who users two types of boats.
Adapts with ease from a SEA KAYAK TROLLEY for a  and/ or a CANADIAN CANOE TROLLEY– NO TOOLS REQUIRED.
Comes complete as the KY-EX Mark5 Expedition Trolley plus 1 x longer axle and centre extension frame and strap.
AVAILABLE FROM NOW WITH 10 YEAR WARRANTY terms and conditions apply.
Description
TWO TROLLEYS in one.
AVAILABLE NOW WITH 10 YEAR WARRANTY terms and conditions apply.
Manufactured from the same high quality materials as all our Trolleys having withstood the vigorous tests of time, on long arduous portages over rough terrain.     Our very first Trolleys produced 20 years ago are still surviving although the trolley design has come along way evolving with less parts and simplicity of design making our trolleys even better.
Comes with either 10″ Foam Filled Wheels
or
10″ Pneumatic Wheels
Please note: 10″ Pneumatic tyres fit the round hatches of NDK's and other kayaks with 10″ round hatches.
The Foam Filled Tyres are slightly harder and do not fit into the 10″ round hatches.
This trolley can also be supplied with the Large Sand Wheels which also work well on rough terrain.   Please see images.
We are Sea Kayakers who have tried and tested our products for years in all kinds of situations., this is why our products keep developing from the Mark 1 to now the Mark 5 Trolley.
CARE of your TROLLEY. We recommend using vaseline in and around the valve to stop the ingress of salt and sand on the valve and into the inner tube ( Pneumatic Tyres )
Wash all parts in warm soapy water to remove grime after each use, this way you will get many years of life from your Trolley.    To date two that I know of have lasted 20 years of the roughest usage.
Please advise us which wheels you would prefer.
DELIVERY TO EUROPE AND REST OF THE WORLD PLEASE ASK FOR SHIPPING DETAILS